In our recent article, we discussed what SEO is. Why do we need this for our website? Before you take it seriously, you need to know that it might take a hell lot of time, effort, and along with valuable assets. SEO is an ongoing process that requires constant attention and maintenance. It's a straightforward way to attract new customers and keep existing ones coming back. It helps businesses reach potential customers through search engines like Google, Bing, Yahoo!, and others.
In short, it's pivotal because it makes your website more visible, which means further business and openings to convert prospects into guests.
On the internet, you will get a lot of SEO articles, but most of them tell you that you should follow this step by step, then you will grow. However, there are no such rules to rank your website. As an SEO community member, I read many contents about SEO. If I define to you what it is an SEO, then I would say consistently implement a correct strategy at the right time. It will work. Today I share the five Necessary points with you.
SEO Basic: Content
Content is the main feature of your website. Suppose the content is attractive to the product. Then customers will come back whenever you write content about your product. It would be best if you were neutral. Moreover, when do you know that portion helps me to generate the leads that section will be buyers, but no one sees that section is a buyer?
While You write content, make sure that the content is long enough to read. When you have more words, you have more Keywords in the range. According to Brian Dean's research, the average first-page result on Google is 1890 words. If that sounds like a lot of work… Then do not follow the rules because no one comes here to read too many words of content. They want the result ASAP!
#2. Keyword:
Since a keyword is essential for every website, if you won't focus on the keywords, then there are no chances to rank on Google. It's the most technical thing on the SEO platform, but if you are missing out from your list, then it matters how well you have written the content for the website.
Before researching your own keywords, you have to keep in mind that—What are the alarming rates? How offensive are your competitors using the keyword on their websites and other websites?
How do you know– what is a difficult rate?
A difficult rate is just a number that shows how difficult ranking on this keyword is. I mean 0-30 is the low competition keyword, 31-60 is the medium competition keyword, and 61-100 is the high ranking keyword.
Medium and low keywords are easy to rank; however, high-ranking keywords are too challenging to rank on search engines. Although, it doesn't mean that no one picks up the high competition. In order to rank higher on Google, you must optimize your site for these keywords. Find out what keywords to target!
Difficult rates mean the
#3. Backlinks: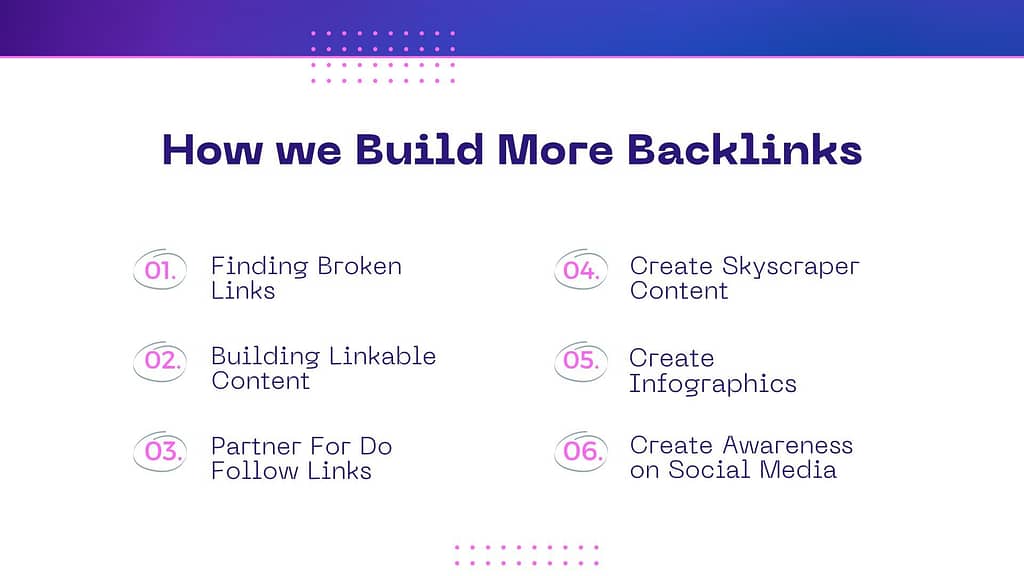 It's also an essential thing in SEO. If you're planning to start your own SEO and don't have it on your list, then you should add it. What is the meaning of backlinks?
I call it, I'll say that getting extended Links from other websites is called a backlink.
I think everyone had the same question is, Why are backlinks necessary?
Yes, the content is everything but initially, when you launch your website. You won't get in extra traffic from Google. It doesn't matter how you will write the content or how best it's. And you're putting every single line that SEO has. It would be best if you still had a backlink.
The backlink is an ongoing process; you should have a backlink every month. So, how many backlinks Do I need? I would say, If you get 20 backlinks in a month, you should get 20 backlinks in a month, not more. When you have the same number of backlinks, it will send the proper response to Google that it's not spamming works. I will say you should slowly add more backlinks in a month. Always backing is a matter of the website.
Read More: 9 Most Powerful SEO Tools For New Bloggers (Easy to Use) To Increase Audience in 2023
#4. Mate Description:
Whenever you post any content in your blogs, make sure that your blog should have a mate description. It's necessary to have it on your blog. People know which type of news they are looking for. When you have an exciting description on your blog audience is more often to click on it.
Once in a while, you should change the Mate Description and Headings, so the audience and google will get your updates notifications.
All we know is what a Mate Descriptions.
Mate Description is short of your content, and your meta description attracts users.
#5. User Experience:
User Experience is one of the essential things on every website. If your UX is well designed, most of the job is attacking the audience throughout your content. A most recent service says that mobile users have a very much impact on a website.
Try to make or use a mobile-friendly theme.
If your websites take a lot of time to load, then it'll create the wrong impression for the website.
This means you send a poor response to google, and your website is inefficient in quality traffic control.