New Delhi 29/01/2021: 29th anniversary of India and Israel established full diplomatic relations back in 1992. A small blast happened In front of the Israeli embassy in the center of the national capital on Friday evening.
According to Delhi Police, It is a low-intensity IED blast, there is no injure. But four to five cars windows damage due to explosion.
Israel is currently claim that the explosion made by terrorist. The official is not sure it's a terrorist targeted by the embassy "this is one of the investigation directions at this stage."
The Israel spokesperson said there were no injuries and there had no building damage.

Delhi Chief Minister Arvind Kejriwal informed on Twitter "Concerned by the news of a blast near Israeli Embassy in Delhi. Agencies are determining the nature and cause of the blast. Thankfully, no loss of life reported yet. Any attempt to disturb the peace of Delhi shud be firmly dealt with"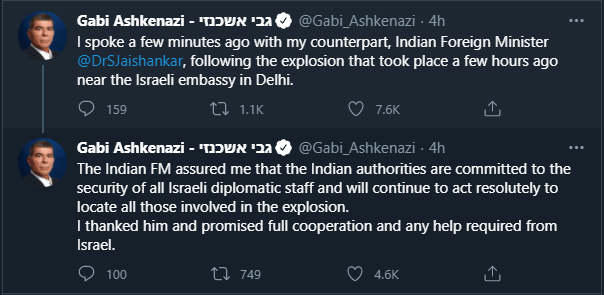 Israeli Foreign Minister Gabi Ashkenazi said that "I spoke a few minutes ago with my counterpart, Indian Foreign Minister S Jaishankar, following the explosion that took place a few hours ago near the Israeli embassy in Delhi. The Indian FM assured me that the Indian authorities are committed to the security of all Israeli diplomatic staff and will continue to act resolutely to locate all those involved in the explosion. I thanked him and promised full cooperation and any help required from Israel,"
Read More: The Biden administration stop the defense deal with UAE and Saudi Arabia