Indonesia- Jakarta: The Boeing 737 crash into the Java Sea. 62 people are dead including Afwan "First officer". The Formerly Pilot Afwan has 30years of experience flying, he also an Ex-Indonesia Airforce pilot. Afwan has its minimum flying experience of the simulator to keep his license. Like in his Muslim majority country.
As of now, 62 People and six flight crew members are on board. On Saturday, After the flight, take off, Within a few minutes the flight crash in the Java Sea. After a few hours are passing, the government sends the Expert driver team in the Java Sea to rescue the passengers. Indonesia's government as know "No one will be alive".
The Plane was found northwest of Indonesia capital of Jakarta. The driver found the first plane wheels and some clothes. Ten children were in abord. The flight route was Jakarta to Pontianak on the island.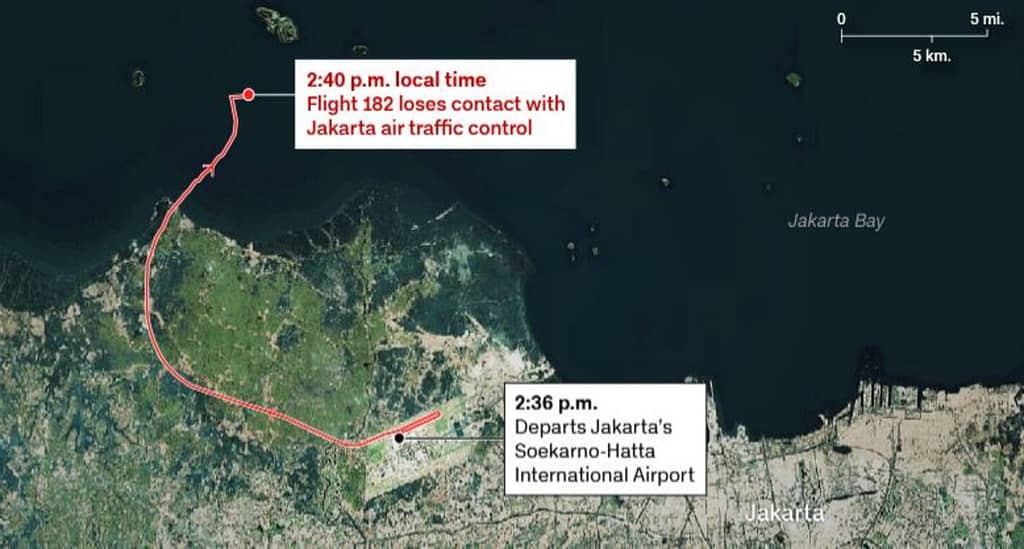 The cause of the crashing of the flight is not yet known. According to flight radar, the plane gain 10000 feet of altitude but the flight slowly losing altitude.
As per local fishermen says the plane direct drives into the Seawater, after the plane broke it. Currently, the flight black box was not found however, the investigators say "We will find it soon". If it's fine then, it will take several months to know what happened with the Boeing 737. For now, we can do one thing, "Pray for them".
There is no doubt that Indonesia's sky is not safe for common people and also, the most common activities are happening with them. I think "due to poor maintenance of the flight and also, Covid-19 hit's the aviation industry. also, The Covid-19 reduce air travel and effect the Financial. The Flight Industry can't pay their staff salary. The staff is working an extra hour for the company and it can happen into the crash.
The Sriwijaya based in 2003 throughout a boom in Indonesian aviation, was debt-ridden even before the pandemic smitten. AN earlier deal to resuscitate its fortunes by linking with another airline cluster fizzled, notwithstanding Sriwijaya had ne'er suffered a crash that resulted in fatalities on board.
Their many crashes happened with Boeing 737, some European and North American are the banded model. Due to some Technical failure in past. In 2014, the same incident happened with Boeing 737, Max. 182 people are dead and also the crash point was Jave Sea.
Read More: U.S President Donald Trump Says