In recent days, When the Covid-19 has started, A report comes from the U.S. base agency, many more countries will be trying to invade each other. The Covid-19 will be the keys. France President Emmanuel Macron says to Azerbaijani. AS of now, the report and the analyzing figures are matching towards the report. For example, India and China, Israel and Palestine, and Armenia and Azerbaijan conflict on disputed territory.
In recent times, Armenian and Azerbaijani have had a war on Nagorno karabakh in this region. Azerbaijani is the one who wins the war.  
But, Today, recent news came that Azerbaijani already started to infiltrate the Armenian land. Rep. Frank Pallone says in his recent tweet.
"Azerbaijan has now invaded Armenia in clear violation of international law. The U.S. must condemn this attack in unequivocal terms and use its influence with allies to bring about the withdraw of Azeri forces from Armenian territory."

Rep. Frank Pallone
Azerbaijani has infiltrated the Armenian borders, Azerbaijani army move ahead in Armenia land in 3kms. This might create a new tension between Armenian and Azerbaijani, and more experts are saying it'll start a new war. Armenian might lose their land.
Wait, Armenian does have a military alliance? Yes, Armenian have their military alliance, CSTO.  In this group, Russia is one of the more significant partners, but we see that Russia is not helping them. However, the European Union tried to back the Armenian government.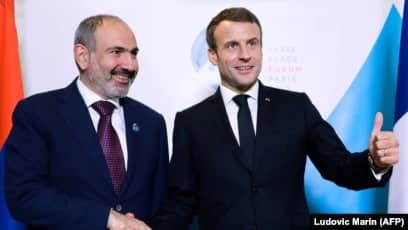 As of now, the CSTO didn't say anything about this incident. But France's President Emmanuel Macron says Azerbaijani armed forces have crossed into Armenian territory. They must withdraw immediately. I say again to the Armenian people: France stands with you in solidarity and will continue to do so.
Why is Russia not helping Armenian?
As of now, the Russian government didn't see their profit in Armenian. Instead of helping Armenia, Russia supports Azerbaijan. The Russian government is selling military items in Azerbaijan. That is why Russin doesn't want to lose their clients.
According to WesternClock, Russia might give you the answer that "we are closely monitoring the situation, both countries come under the table and discuss the problem and all."
France will gain someplace in the future. How?
For stance, Armenian might go with European Union, and Armenian might brack the CSTO. And also, France President Emmanuel Macron sees Armenian as a buyer of France's military items. In the way, Russia might lose Armenian.
Read More: Israel Declares Emergency after Riots in Lod Israel