Apple announces on October 13, 2020, introduced its newest flagship iPhone 12 Series, the iPhone 12 Pro, iPhone 12 Pro max, iPhone 12, and iPhone 12 mini. These iPhones are the successor of the iPhone 11 series. iPhone 12 and iPhone 12 mini are less low pricey than iPhone 12 Pro and iPhone Pro max because of those who didn't afford or like a smaller phone.

Design: iPhone 12 models feature a brand new style and use edge-to-edge Super Retina XDR displays. iPhone 12 Pro Max is the largest iPhone ever. And iPhone mini is the smaller and lightest. iPhone 12 Pro and iPhone 12 Pro max have four stainless steel finishes, available in graphite, silver, gold, and pacific blue.

What is the same on the iPhone Series 12?
OLED display
Squarer design
A14 Bionic chip
iOS 14
5G

iPhone 12 models are very similar in the display, flat edge design. They all run on a similar A14 chip, all of them run on iOS 14 software and are 5G compatible. They conjointly all have stunning punchy OLED display panels with True Tone and Haptic Touch – though their resolutions are different. Also, all models are certified with IP68 water and dust resistance.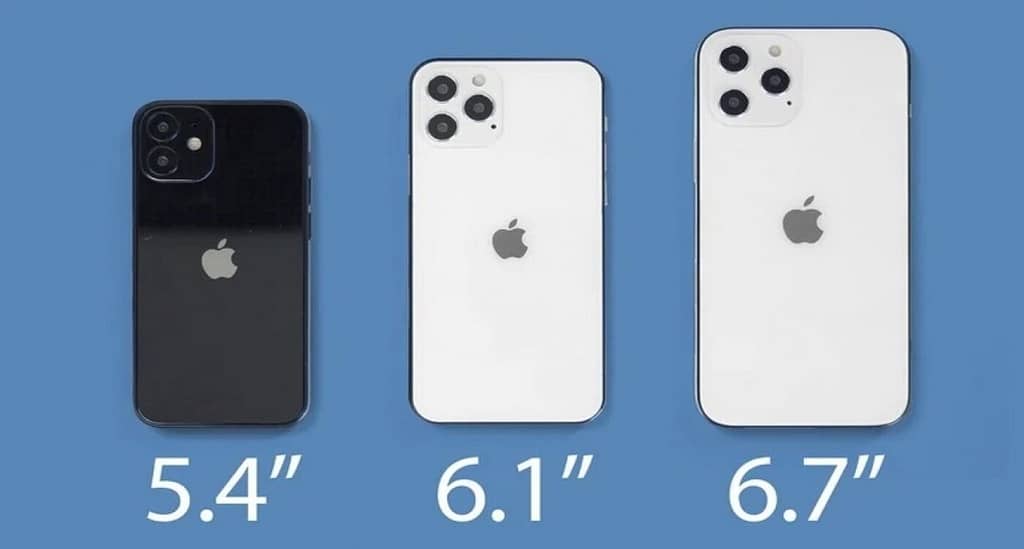 Display Size
iPhone 12 Pro max: 6.7 inches
iPhone 12 Pro: 6.1 inches
iPhone 12: 6.1 inches
iPhone 12 min: 5.4 inches

iPhone 12 Pro max is the largest 6.7″ display, resolutions of 2778 x 1284 pixels, 458ppi, and iPhone 12 Pro, iPhone 12 are both 6.1″ with resolutions of 2532 x 1170 pixels, 460ppi. iPhone 12 mini is 5.4″ smallest display with resolutions of 2340 x 1080 pixels, 476ppi.

Camera: The iPhone 12 Pro max and iPhone 12 Pro come in a triple rear camera. Main camera 12-megapixel, ultra-wide-angle camera 12-megapixel, and a 12-megapixel telephoto camera.

iPhone 12 Pro max has a 5x optical zoom with ƒ/1.6 aperture and 1.7μm pixels that's an improvement in low-light conditions.

iPhone 12 Pro has a 4x optical zoom with ƒ/1.6 aperture and an Ultra-Wide camera with a 120-degree field of view.

The iPhone 12 and iPhone 12 mini come in a dual rear camera, 12-megapixel main camera, and a 12-megapixel ultra-wide-angle camera and the same performance.

Storage: iPhone 12 Pro max and iPhone Pro are available 128GB, 256GB and 512GB storage option.

iPhone 12 and iPhone 12 mini are available 64GB, 128GB and 256 GB storage option.

Colour Options: The iPhone 12 Pro and iPhone 12 Pro Max are available in Pacific Blue, Gold, Graphite, and Silver options.

The iPhone 12 mini and the iPhone 12 is available in Black, Blue, White, Green, and Product (Red) color options.

A14 Bionic Chip
A14 Bionic chip built on a 5-nanometer process, and it's the first-ever smallest chipset in the smartphone industry. Apple clams A14 Bionic is 50% faster than other smartphones' CPUs and GPU. A14 Bionic gives you better gaming experiences, better photographs especially Night Mode, delivering great battery life. A14 Bionic options a 16-core Neural Engine that's increased 80% preformation.

5G Experience
All four models are 5G compatible. Greg Joswiak said, "This is a huge leap for iPhone, bringing the best 5G experience in the market and delivering our most advanced technologies to users who want the absolute most from their iPhone,". Apple's senior vice president of Worldwide Marketing. "Each generation of iPhone has changed what we expect from a smartphone, and now with 5G, iPhone 12 Pro provides a new generation of performance.
Our tight integration of hardware and software enables incredible computational photography features like the expansion of Night mode to more cameras and introduces support for HDR video with Dolby Vision. A state-of-the-art LiDAR Scanner means users can experience AR like never before, and also offers benefits to the camera with faster autofocus in low light and the introduction of Night mode portraits. These experiences and so much more make this the best iPhone lineup ever." (Source)

Pricing
The iPhone 12 Pro max starting at $1099/£1099.
The iPhone 12 Pro starting at $999/£999.
The iPhone 12 starting at $799/£799.
The iPhone 12 mini starting at $699/£699.

Conclusion:
The differences between iPhone 12 models are only physical size, display size and cost. Otherwise, the colors, storage options, camera. So, Should you buy the iPhone 12 series? If you already using the previous iPhone like iPhone 11 then you don't want to buy it. If you have a budget and you want then you can go for it, or you using an older version like iPhone 7, iPhone 8, iPhone x then you can buy it. If you like big devices then go with iPhone 12 Pro or 12 Pro max. If you need small devices, handy devices then you can buy iPhone 12 or 12 mini.
Read More: Sony: Where to buy PS5, Full Review