The Computer-Based business idea is easy to make online money.
If you have experience with computers or you are a computer expert, you have the best opportunities to start up your own business. There are many small business opportunities for computers expert.
Here Are 10 Types of Computer-Based Business Ideas
1. Computer Repairing
If you know about computer maintenance and identify the problem and fix it or already do a part-time job at the computer shop, you should open your repairing shop. Because after the one-year warranty period, 80% of people looking for a local shop.
2. Computer Tutor
Today's world lives in a digital, but everyone is not tech-savvy. If you have a computer course or you studying about the computer, then a computer tutor is an ideal business for you. Open an institute also you can be a home-based tutor. In this pandemic, your classes can be via videoconference. Also, if you open an institute and create a group of tutors and lead them.
3. Tech Blogging
If you have any tech knowledge, you have an excellent opportunity to make money. You can create your website and start a tech blog, and you get money from AdSense, advertising, selling products and services, etc. 
4. Computer Shop
Starting your shop initially, you'll spend a more significant amount of money. But it's a profitable business. You can also do computer assembling, and selling computer parts and accessories. The demand for computer parts increases day by day. You can add a computer cleaning service to your business if you provide this type of service people automatically come to your shop and buy your service.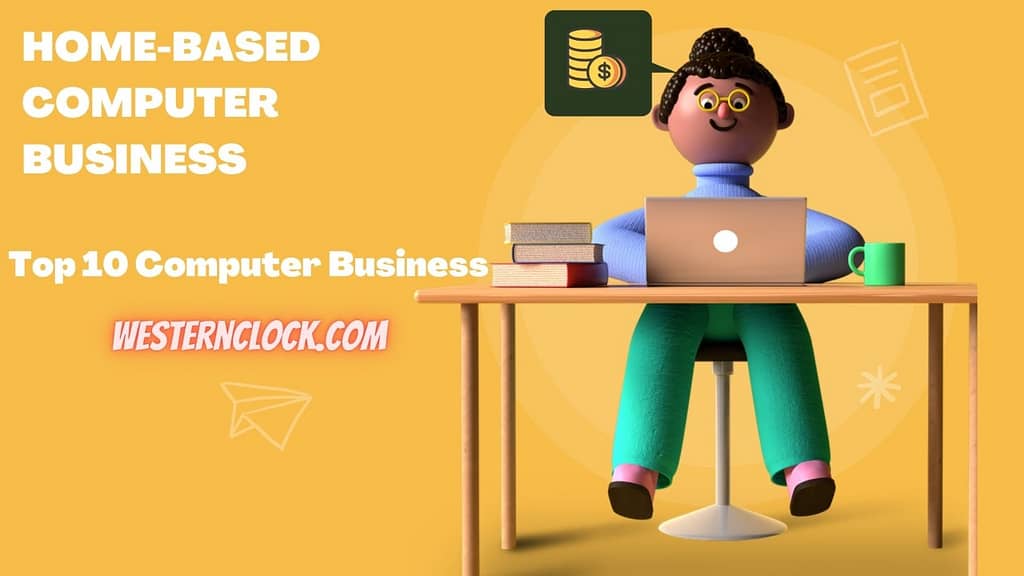 5. Desktop Publishing
Desktop publishing is a process of creating documents using Adobe type of software. This business you can start from your home, you need a computer, internet connections, and specific software types. With the help of desktop publishing software, you can create newspapers, magazines, books, PDFs, web pages, banners, logos, signage, etc. 
6. Affiliate Marketing
Affiliate marketing is the most popular way to make money. When traffic comes on your website and clicks the specific link and purchases the product you promote, you get some percentage. You can promote affiliate links through Google AdWords, Amazon, Email marketing, ebook, etc.
7. Web Design and Programming
Web designing is the same as desktop publishing. In this digital world, web designers have a great opportunity. Many entrepreneurs need a web designer or programmers to customize their websites. All you have to want an internet connection with a computer and you can start designing from home. You can work with worldwide clients to a website set up, monitor, update, or maintenance a type of service. And it's a very profitable business that you can start from home-based.
8. Mobile Apps
For the past few years, smartphones have been in high demand as well as applications. If you have the experience to develop applications, then you have an enormous potential to make money quickly. Make sure which type of customers you targeted and how to sell your mobile apps. And give a catchy name for your applications.
9. Internet Marketing
If you understand marketing like internet marketing or online marketing, you can start internet marketing. Many small businessman owners need help from SEO, website promotion, PPC, etc. You can provide them with websites for advertising or promotions. In this business, you can see the result in a few days. Also, you can provide several types of services like Content Marketing, Search Engine Optimization, Website Setup, Online Advertising, Social Media Planning, etc. Especially content marketing is the future of internet marketing.
10. eBook Writing Business
The eBook industry is growing rapidly. In this year, the eBook industry more than $7 billion. You give it a try in the eBook business, and there is no investment or say little. This business you can start from home. Everyone knows a specific skill or subject, and you can share your thought in writing. You need to explain your word in a simple sentence and informative. For creating an eBook, you only need a computer, internet connection, and some software. After creating an eBook, you need to promote your book. You can encourage from a website, email marketing, social media, eBay, or Amazon.
Conclusion
Computer Business Ideas are easy to start but moreover, if you don't have basic ideas about Computer Business then you need to learn from some experts. If you know about Computer maintenance and identify the problem and fix it or already do a part-time job over the computer shop.