The money transfer sector has seen a lot of development in recent years, thanks to the many fintech startups that have been popping up left and right. Some of them have been doing well and received a lot of backing from prominent venture capital firms like TransferWise, Azimo, and WorldRemit. Other startups seem to struggle a little more when looking for that leading investor to put them in the same category as the above-mentioned. The most important thing is the fact that there is room for massive growth for these fintech companies, as the market has been ready for disruption for so long. For so long, the banks had a monopoly on any money transactions. Yes, WesternUnion and MoneyGram have both made life a little easier, but they certainly didn't lower the costs at all. Nothing has come close to the benefits that the money transfer companies using blockchain technology claim to provide to their customers.
What is this blockchain technology?
A blockchain is a data structure that can create a big digital ledger of transactions, and share it among a network of computers. It will allow a participant to use accounting securely because it uses cryptography. The participants can add a piece of data, like a transaction, but it is almost impossible to edit or remove it. This is called a block, and everyone can have access to it, and see it, but not alter it. The blockchain can be seen as the history of banking transactions.
Bellow, I have a picture from Dupress.com that exemplifies the difference between the traditional way of sending money (banks) and the blockchain technology (Bitcoin):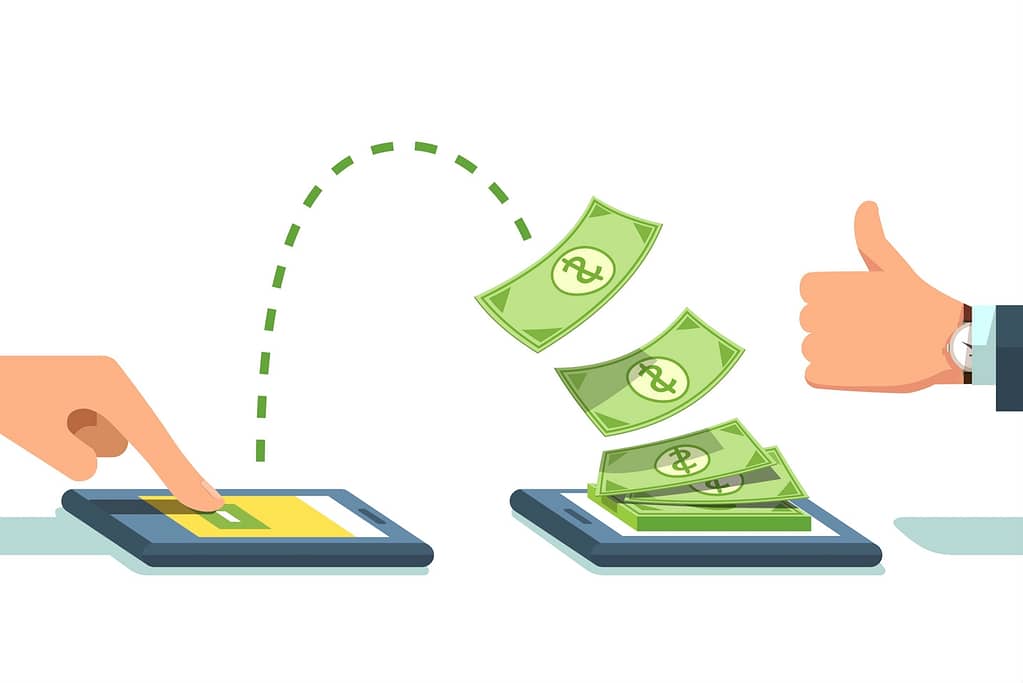 Here are three companies 
1.      Abra: This peer-to-peer money transfer network, founded in 2014 by Bill Barhydt, is committed to forever changing how people move money around the world.
The users send the money through an app that allows them to store (digital) cash, without the need of having a bank account, and people can withdraw the funds via a teller.
Even though the funds denominated in US dollars, the app's back-end infrastructure is based on Bitcoin. This means that the transfers don't carry any transfer fees, are safe, and instantly received by the other party involved.
The company has raised $14M until today, with the most Series A funding in September 2015 of $12M.
2.      BitPesa: Launched in November 2013, BitPesa is catering to customers (individuals and businesses) from sub-Saharan African countries like Kenya, Nigeria, Uganda, and Tanzania.
BitPesa accepts Bitcoins and can send the same digital currency or fiat currencies to other people from inside the account from your mobile phone or computer. And you can do this kind of transaction 24/7 with the shortest delivery time being just 2 minutes.
The company has received over $1M in 3 rounds of funding from 6 investors. In February 2016, they raised an undisclosed round of financing for BitFury Capital to bring Bitcoins to the masses and start making global transacting easier.
3.      Coins.ph: Founded in 2014, this Philippines based company provides a bitcoin wallet app that allows their customers to make payments, pay bills and cash out in Philippines pesos.
Their network currently offers more than 5000 cash-out options, with some offering door-to-door cash delivery, and 70+ bill payment providers.
In December 2015, they received an undisclosed amount of funding from Wavemaker Partners, which most likely will mean that the company will grow to have an even bigger presence in the Southeast Asia market in 2016. Without a doubt, companies using the blockchain technology will evolve and will make the money transfer business cheaper for the end-user and more transparent. We need to have it sooner rather than later.