14-05-2021: The overall casualty in Israel side 8 civilians killed, and in Gaza Strip, 113 civilians and militants killed, and around 600+ civilians injured for the Israel Palestine conflict. And if this type of situation continues in Gaza Strip, then the civilian's dead touch 1000 soon.
In this conflict, many Muslim countries openly support Palestine, such as Turkey, Pakistan, Iran, Lebanon, etc. Also, Russia and China indirectly support Palestine. And recently, Turkey president Recep Tayyip Erdoğan tells Vladimir Putin Israel will pay for this, but we don't know what Turkey is doing. Turkey always give statements and passes comment for representing as a Muslim world leader.
Another way the US, Austria, Germany, and many other European countries support Israel. US president Joe Biden says, "Israel has a right to defend itself when you have thousands of rockets flying into your territory." Recently Austria flies the Israel flag on the roof of the chancellory building and says, "we do not support any terrorist attack. Together we stand by Israel's side".
Read More: Azerbaijani armed forces have crossed into Armenian Territory says Emmanuel Macron
Read More: Israel Declares Emergency after Riots in Lod Israel
India Stance
India's many Muslim leaders request to the government "India must ask Israel to abstain from aggression." Asaduddin Owaisi, member of parliament and president of AIMIM, says, "The government of India should condemn this act of Israel. India has consistently supported an independent Palestinian state within pre-1967 borders – Barrister". T S Tirumurti India's permanent representative of UNSC says recently done a closed-door meeting. In this meeting, India specially mentioned four issues.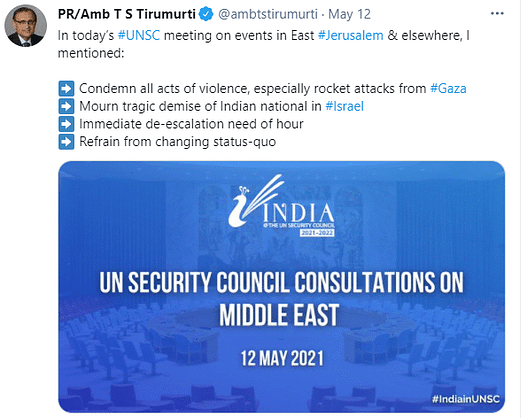 Condemn all acts of violence, especially rocket attacks from Gaza. And this is interesting that India mentions Gaza rocket attacks. India didn't mention Israel airstrikes.
Mourn tragic demise of Indian national in Israel. India especially mentions the Gaza rocket attacks because recently, an Indian citizen Ms. Soumya Santosh killed in the Hamas terrorist rocket strike. And Israel's president offers condolence to Ms. Santosh's family.
Immediate de-escalation need of hour.
Refrain from changing status-quo. In the last two issues, India shows something balanced stance.